DETAINED Tanzania's main opposition leader Freeman Mbowe and other 15 prominent members of Chadema are due to appear in court tomorrow to answer charges of conspiracy to commit terrorist acts and killing top government officials.
Mbowe might appear either in the Kisutu Resident Magistrates Court in Dar es Salaam or in the Mwanza Resident Magistrates Court. Under Tanzanian laws these charges are non bailable.
As police announced these charges publicly today, sympathisers, including Chadema supporters took to social media to say the charges have been "maliciously fabricated for political reasons," as a way to silence Mbowe and the opposition.
Others posted messages on Twitter and Instagram calling for "massive demonstrations" for the unconditional release of Mbowe and others.
"It is now time to show the government and the ruling party, CCM that the entire nation needs constitution reforms, we must tell our leaders that the time has come for it through Mbowe's torture and capture," Makale Malike twitted.
Chadema deputy chairman Tundu Lissu accused President Samia Suluhu Hassan of constitutional and human rights violations that would see the country plunging into chaos if not addressed properly now.
"So, organising a forum for constitutional reform is terrorism in the new Tanzania under Samia Suluhu Hassan and her Police Force? Even John Pombe Magufuli, her odious predecessor, didn't dare to go that far. We must demand the immediate & unconditional freedom for Freeman Mbowe now!" He said on his Twitter account.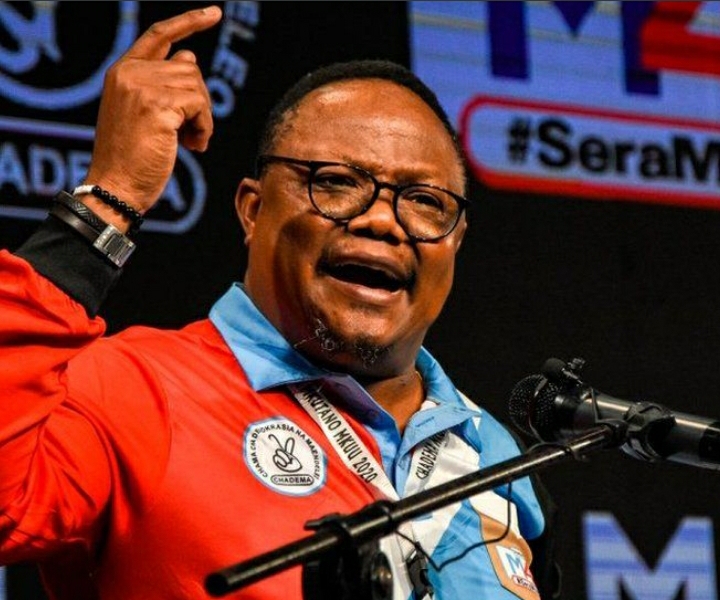 United States Chairman of the House Foreign Affairs Subcommittee on Africa, Karen Bass today issued a statement asking Tanzanian authorities to end the escalating crackdown on opposition parties and leaders, and the arbitrary arrests and detentions show the disregard for the rule of law, human rights, and the rights to freedom of expression and association.
"I am concerned to hear about the arrest of Tanzanian opposition leader, Freeman Mbowe and other party officials and staff of Part of Democracy and Progress. Those arrested have not been charged with any criminal offense. I encourage the safe return of Mr. Mbowe – who at present is still unaccounted for…
"… The unexpected death of Tanzania's president, John Magufuli, was a true shock to us all. But the appointment of his vice-president, Samia Suluhu Hassan, looked to be on a different path for leading Tanzania forward to a more democratic society. Unfortunately, the arrest of Mr. Mbowe and other opposition leaders has minimized any such hope," said Congress member who is also serving on the House Judiciary Subcommittee on Crime and Terrorism.
Mbowe, who was arrested in what could be dubbed as sweeping midnight raid in Mwanza, a northern city along Lake Victoria was airlifted to Dar es Salaam where Police said he was needed for other charges.
While in Dar es Salaam, Police searched Mbowe's house and seized his laptop and other devices from family members before transferring the Chadema chairman to the city's central Police custody.
Mwanza Police Commander Ramadhan Ngh'anzi said Mbowe would later be returned to the city to join the others who were arrested for organizing the "banned" constitution reforms meeting.
Today in a statement from Chadema, Mbowe was quoted saying his and colleagues arrest was politically motivated and that their call for new constitution in Tanzania has brought them to dubious terrorism charges.
"I am ready to face all charges without fear, as I understand what the future of Tanzania and its people holds, I can pay my blood for the better tomorrow," he said.
The detentions come four months after Tanzania's first female President Samia Suluhu Hassan took office following the sudden death in March of John Magufuli, under whose authoritarian rule such clampdowns on the opposition were frequent.
Amnesty International described the arrests as "arbitrary" and part of an escalating campaign against the political opposition in a country once seen as a beacon of democratic stability in the region.
"Tanzanian authorities must stop targeting the opposition and trying to narrow the space they are able to operate in," Flavia Mwangovya, Amnesty's deputy director for East Africa was quoted saying.
Flavia said these arbitrary arrests and detentions show Tanzanian authorities' flagrant disregard for the rule of law, and human rights, including the rights to freedom of expression and association. "These politically motivated arrests must stop," she added.
The United States said Wednesday it was confirming details of Mbowe's arrest but that it would be "very concerning".
Secretary of State Antony Blinken had encouraged President Samia in a July 6 telephone call to protect civil liberties and stressed "the importance of ensuring a democratic, peaceful, free and prosperous future for all Tanzanians," State Department spokesman Ned Price said.