TANZANIA's Media Services Act (2016) is, according to journalists and rights groups, violating the rights to freedom of expression. In addition to the act, amid COVID-19 crisis, the Tanzanian government has further blocked access to any information about the Coronavirus pandemic.
On 29th April 2020, emergency decrees were put in place restricting all institutions and individuals from disseminating and sharing any information on Coronavirus in the East African country. Mainstream media and the public, through their social networks, were denied their rights.
In Tanzania, since the first patient of the coronavirus disease was diagnosed and announced on 16th March 2020, the government has been in the limelight for its handling of the pandemic. It started well with releasing statistics of new cases, deaths, those under strict quarantine and those who were "cured."
After 45 days, the president intervened and ordered authorities to stop sharing any data and statistics regarding the pandemic. It denied the public any statistics of the pandemic, suspended media houses, banned a reporter and criminalised COVID-19-related speeches and public communication on the matter.
While all these were happening, a few weeks after Coronavirus data and statistics were stopped, President John Magufuli, encouraged people to continue visiting places of worship, while comparing the virus to the devil who, he said "cannot survive in the body of Christ."
President Magufuli also rejected the need to check movements of people, claiming that stringent social isolation measures would severely damage the economy, and he declared the country virus-free, "thanks to three days of prayers" by the citizens.
President Magufuli said it was pointless to impose a lockdown or curfew, for which some observers say the move helped to avert unnecessary panic to the population.
By the time the government stopped the released of statistics, records the showed that there were 509 cases and 21 deaths from the disease.
Since then, there has been no reporting on the coronavirus, whether from mainstream media, foreign correspondents, bloggers or even social media.
Worth noting are two outliers, human rights activists – Maria Sarungi and a popular, anonymous "Twitter King" with a pseudonym "Kigogo2014," – who have continued to post about the matter on their social media pages.
For the most part, there is no information. Front-page free advertisements on precautions against the disease stopped. "Life as usual" resumed even as the rest of the world faced the pandemic. Tanzanians stopped wearing face masks. Sanitation booths were removed.
While there were no lockdown or curfew, almost one month after the stoppage of coronavirus information, the then Dar es Salaam Regional Commissioner, Paul Makonda, arranged a public festival; dubbed "End of Corona Bash" – with a lot of foods and loud music in a packed open space. Famous local artists were engaged and it went all night long of drinking, eating and dancing. No precautions were involved- again – because there was no Coronavirus.
Dr Matshidiso Moeti, the WHO regional director for Africa, said the global health organization had not received any reports of cases from Tanzania – nor had they received any reports of zero cases in accordance with the international health regulations, which would also help neighbouring countries in assessing the level of health risk.
"We have worked to continue to encourage Tanzania to share information of the pandemic so that it is clear not only to WHO but most importantly it is clear to the world what is the situation in the East African country," she said.
To date, no government officials have responded to the call from WHO.
How the Coronavirus spotted?
On 16th March 2020, the Ministry of Health of Tanzania announced the first case of Covid-19. The victim happened to be a female traveller aged 46 years who had departed from the country on 3rd March 2020 to Belgium and had visited Denmark and Sweden between 5th and 13th March 2020. On 15th March 2020, the lady flew back to Tanzania from Belgium and arrived at the Kilimanjaro International Airport (KIA) at 1600 hours using the Rwanda Airways.
SAUTI KUBWA understands that on her departure from Belgium, the lady, Isabela Mwampamba, was offered a ride to the airport in Brussels by a Ugandan driver who works with the Tanzania Embassy in Brussels, Belgium.
Tanzania, just like many countries, had initially allowed in all arriving passengers from abroad and neighbouring countries after medically screening and testing them at their points of arrival.
At the airport, the female traveller was effectively screened for the symptoms and the results showed negative. She took a taxi cab all the way to the hotel located about 28 miles away from the airport. On 16th March 2020, she felt unwell and surrendered herself to medical tests just to find out that she had been infected with Coronavirus.
She came to put it clear to the authorities that the reason behind staying at the hotel overnight instead of going home directly, was a need for self-quarantine. She further uncovered that, back in Belgium, she was accommodated by her female friend whose husband had acquired the infection.
Ever since the government announced the presence of the Coronavirus in Tanzania, it encouraged the general public to take precautions, including those accorded by WHO; washing hands by using running water, sanitizing and keeping social distance. But President Magufuli put emphasis on using locally made herbs; steam inhalation and more so in prayers.
President Magufuli announced a national wide three days of robust prayers to kick the pandemic out of the country. During those days, people from all walks of religious faith prayed – some fasted for those consecutive days and later, the head of the nation, announced that God had answered their prayers. "Now, the country is Corona-free," he said.
Little did people know that the approach by President Magufuli was dangerously exposing them to the disease as they abandoned taking precautions. In one way, however, it offered them psychological comfort.
Since then, the country has been widely criticized for this alleged irresponsibility and denialism.
Still rushing for magical COVID-19 cure
Since the outbreak of Coronavirus in March 2020, various medical institutions, traditional healers, politicians, spiritual leaders, among others, claimed to have "discovered" a remedy for the deadly virus.
The so-called COVID-19 remedies range from cocktail herbal to divine-powered "medications", routinely promoted by some religious leaders.
It's a trend that is not exclusive to Tanzania, but also across the border in neighbouring Burundi, the Democratic Republic of Congo, and Benin, among others. All sorts of COVID-19 cures have been mooted.
Madagascar went a step "higher" with the president endorsing a locally produced concoction as a magical cure the world had been waiting for. But it later proved a failure. More statistics show a rising graph of deaths and new cases.
In Tanzania, as one travel across the streets of the commercial capital Dar es Salaam, posters are welcoming – all promoting one cure after another, and social media is flooded with all sorts of "cures" both from the state agencies and individuals.
With commercial activities and church gatherings in full swing, the claimants are making a stake at Christian gatherings and market places.
Government institutions
But the rush for COVID-19 cure has not been left to soothsayers and prophets alone. The government seems eager to give Madagascar a run for its money, apparently.
The National Institute for Medical Research (NIMR), Tanzania's leading research institute, claims to have a preventive remedy for COVID-19, the herbal and grounded mixture of ginger, lemons, green pepper that has been named "NIMRCAF."
According to NIMR Director-General Prof. Yunus Mgaya, after the first coronavirus case was announced in the country, the institute commenced research on the epidemiology of the disease, in which case they also scrutinised symptoms peculiar to Tanzania as opposed to those noted in patients from other countries.
Prof. Mgaya said at the institute has several experts on traditional medicinal plants that have been able to come up with NIMRCAF, a tonic used in reducing the severity of COVID-19. One bottle costs Tanzania Shillings 10,000 (USD5).
Another government institution, the Tanzania Industrial Research and Development Organization (TIRDO), has come out with a remedy named Covidol, discovered by Prof. Hamis Malebo, a lead research scientist at the institute who said the tonic is a concoction of various natural medicinal plants and seeds. He declined to name them. He simply said: "the tonic is responding very well to those with COVID-19."
The Director-General of TIRDO, Prof. Mkumbukwa Mtambo, said the remedy has shown some positive signs to coronavirus infected people and revealed that they have produced 900 bottles of the mixture ready for the needy.
A medical doctor from IntraHealth International – Tanzania Chapter – who preferred anonymity, said people should be very careful in applying anything that is not scientifically and medically proven for human consumption as they pose high health risks. He advised people to follow WHO guidelines for prevention and management of the virus.
'Men of god'
Apart from the government, COVID-19 has also triggered the influx of some "spiritual men and women" claiming to possess divine powers to heal anyone affected by the virus.
One of them is maverick bishop-cum-politician Josephat Gwajima of Glory of Christ Tanzania Church (GCTC) popularly known as Kanisa la Ufufuo na Uzima – based in Dar es Salaam. He has claimed that "God" has spoken to him and asked him to rescue Tanzanians from the pandemic.
Gwajima once claimed to have asked Prime Minister, Kassim Majaliwa, to allow him to visit quarantine centres in order to pray and heal the infected patients. The office of the Prime Minister in Dodoma told our reporter that it was yet to receive any official request from Gwajima.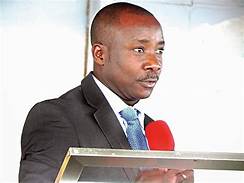 Other self-defined prophets; Moses Ibrahim, popularly known as Namba Saba of Word and God's Services of Arumeru, in Arusha, and Komando Mashimo of Dar es Salaam are claiming to have divine-powered water that instantly kills the coronavirus.
Every time Magufuli appears in prayer houses, he appeals to the believers to thank God for "getting rid of Corona from Tanzania." In a highly religious society, this message sinks to the hearts of many people. But informed and sceptical minds are accusing the president of making irresponsible utterances that are helping to fill the people and "spread the virus silently."
Local herbalists in the race
Local herbalists, too, have not let the rush leave them behind. They opened herb shops everywhere and some turned social media into the market place for their various concoctions.
One traditional healer, Tunu Shaban, popularly known as Mama Ustadhi, of Mwananyamala Sokoni, Dar es Salaam, has said that the COVID-19 problem is now over because of the use of traditional medicines which entails herbal leaves.
The woman, who has 20 years of experience in providing herbal medicine services, said that she had received many Coronavirus patients and had cured them. "All the patients who came to me and used my syrup have recovered. I treated them with herbal remedies, including leaves from aloe, lemon, and ginger," she said.
She said that the procedure for using her medicine was to boil the leaves of the trees in a large pot, then inhale the steam twice a day. "One dose of the treatment costs Sh. 18,000 (USD 8)," she explained, and added: "At the moment, I do not get Coronavirus patients again, as the disease is no more."
So rampant and widespread is the hunt for the cure that these alleged "discoveries" have left Dar es Salaam running short of citric fruits, hence prompting a price hike. The prices of a single lemon or orange fruit, for instance, have jumped from Tanzania Sh. 100 (USD 4cts) to 500 (USD 22cts).
Tanzania was among few African countries which received a consignment of a much-publicised Madagascar anti-coronavirus remedy Covid-Organics.
The World Health Organization (WHO) is still maintaining that there is no cure for COVID-19 and has advised against all self-medication, insisting that no mixture has been verified and approved for human use.
The fear for new cases
There are all significant signs that Tanzania may soon have a huge number of COVID-19 victims as three major hospitals in the country's economic capital, Dar es Salaam, are flocked with Coronavirus patients.
Hospital beds at Aga Khan Hospital, Hindu Mandal Hospital and Rabininsia Memorial Hospital have patients who have reliably tested positive for COVID-19.
Reliable sources, including doctors and close relatives of admitted patients, have confirmed that the pandemic is silently killing people at an alarming rate.
At Aga Khan Hospital, 11 patients of Asian origin were admitted, six at Hindu Mandal and four at Rabininsia hospitals all diagnosed with symptoms of COVID-19 after two tests to confirm the diagnosis. Doctors at the two hospitals said they performed molecular tests that detect the virus' genetic material and antigen tests that detect specific proteins from the virus. All patients registered positive results.
This week, authorities in Tanzania are again threatening all media and the general public from discussing the possibility of a resurgence of COVID-19. Its deemed criminal and unpatriotic to publish any news about the prevalence of COVID-19 in Tanzania.
In its advertisements on radio, print and social media, the Tanzania Communication Regulatory Authority (TCRA) has been warning the people against sharing anything regarding the pandemic, saying it would take stern measures against anyone who contravened the government position.
A medical doctor at Aga Khan Hospital, in the city centre – who prefers not to be mentioned – said that in the past few weeks the number of cases had been growing, but most of them recovered after three to four days. He did not disclose the prescriptions.
Aga Khan hospital has reportedly developed a special formula for the treatment of COVID-19.
He said most of the patient experience respiratory complications, high fever and sometimes headache.
The same scenario was revealed at the other two hospitals whereby sources confirmed to have admitted COVID-19 patients but refused to cooperate fully due to the fact that it is "prohibited by President Magufuli's government to disclose anything regarding the pandemic."
In Tanzania now, the pandemic is considered as a security and economic issue, never a health matter. But some hospital executives are taking preventive measures. This is one of the latest warnings from Dr Murtaza Shk Ayman of Saifee Hospital in Dar es Salaam.
A prominent member of one of the then three national response committees to COVID-19 under Prime Minister's office, when contacted, said she would not comment because their team no longer exists.
Coronavirus is intact. The disease is still dogging lives in Tanzania just like everywhere in the world. Clinically, it is recommended that everybody should take care of themselves and the family instead of heeding unscientific advice by the government.
(This article was part of the global media collaboration series facilitated by the International Media Support (IMS). The original headline was "If COVID-19 Doesn'tKill You." The contributing team includes Mekonnen Teshome (Ethiopian Herald – Ethiopia), Ali Saeed (Al Mushahid – Yemen), Carljoe Javier (Puma Podcast – Philippines) and Preethi Nallu of IMS)