MEDIA independence in Tanzania is still a serious concern despite President Samia Suluhu Hassan's demonstration of willingness to closely work with the media without government interference.
Journalists, media owners and media freedom stakeholders, expressed their concerns yesterday during the World Press Freedom Day (WPFD) celebrations, with many asking President Samia to be guided by the commitment to broader media freedom.
At various times, the stakeholders said that now is the time for the government to stop harassing journalists so that they can continue to address social challenges and expose corruption and expose bad actors to book.
Kajubi Mukajanga, the Executive Secretary of the Media Council of Tanzania (MCT), said it was important for the government to stop squeezing and stop using all bad laws that prevent journalists from doing their work freely.
"It is an indisputable fact that the media for five years or more had a difficult time working, but now there may be a chance that seems to create a conducive environment for journalists to work freely and show patriotism for their country," said Mukajanga.
Mukajanga said patriotism for journalists in the country includes criticizing and exposing "evils" that are being perpetrated by leaders and never turning a blind eye to them.
Commenting on media freedom, the Chairperson of the Tanzania Media Women Association (Tamwa) Joyce Shebe said in order for Tanzania to have credible and greater freedom of expression, journalists must ensure that they stick to truth, humane and adheres to media professionalism.
The President of Tanzania Media Practitioners Association (Tampa), Simon Mkina, said it is high time for President Samia and her aides to protect journalists and give them the opportunity to carry out their duties without fear.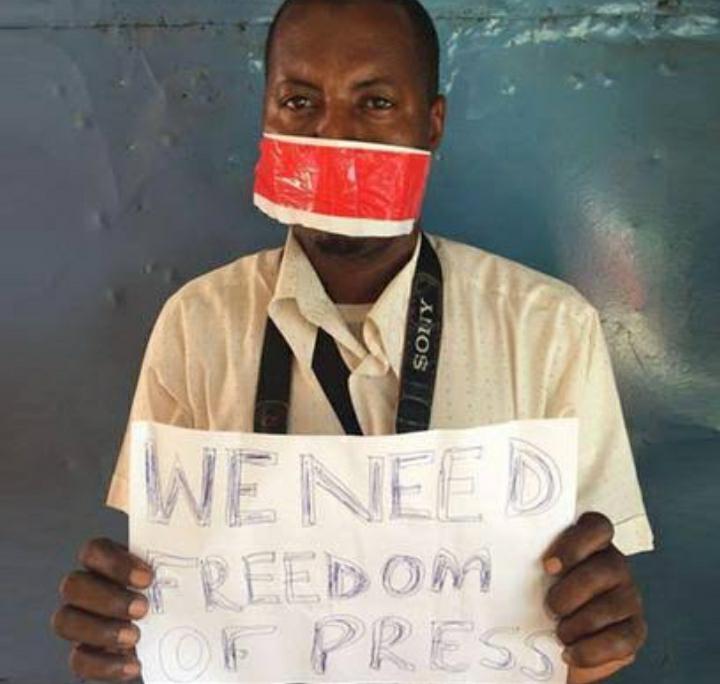 Acting Chairman of the Tanzania Editors Forum (TEF), Deodatus Balile, said now is the time for the government to ensure that bad laws that restrict the freedom of the media and other stakeholders, are removed.
"Our request is for the removal of the oppressive laws which includes the Media Services Act 2016, Cyber Crimes Act 2015, Statistics Act 2015 (as amended 2018), Right to Information (RTI) 2016, Online Content Regulation 2017, and many others that for one way or another undermines freedom of information or expression," added Balile.
U.S. Ambassador to Tanzania, Donald Wright in honor of WPFD said; I'm encouraged by the recent steps taken by President Samia Suluhu Hassan to lift some of the repressive restrictions on the media. I understand that the government may soon form a committee to review previously enacted legislation which has hindered press and information freedoms."
President John Magufuli's sudden death in March 2021, a few months after his reelection for a second term, left journalists in a state of uncertainty. Since becoming president in 2015, the man nicknamed the "Bulldozer" had become increasingly authoritarian, tolerating no criticism of himself or his policies.
Erick Kabendera, an investigative journalist, paid a high price for his articles criticizing the economy, the government and corruption, spending a total of seven months in prison after his arrest in July 2019.
The court's inability to stand up to the prosecutors, who changed the charges three times, sent a chilling message to journalists. The authorities displayed absolutely no concern about Azory Gwanda, a Tanzanian journalist who went missing in November 2017 while investigating the murders of local officials in a coastal region.
The foreign minister referred to him as "dead" at one point in 2019, but backtracked shortly thereafter. Several months before that, the authorities expelled two international press freedom defenders who had been investigating his disappearance. Nothing protects the media and journalists against the executive any more in Tanzania. The media continue to be exposed to arbitrary suspensions, of which there have been around 20 since 2015.
Media outlets that fail to toe the government line quickly find themselves deprived of state advertising. The coronavirus crisis has fed the climate of fear and encouraged even more self-censorship. President Magufuli minimized the pandemic or even denied its reality, no caseload figures have been issued since April 2020 and several journalists and media outlets have been suspended after criticizing the government's management of the crisis.
The adoption of increasingly restrictive laws and regulations are also used in the war against independently reported news. New ones in 2020 banned publishing information about a "deadly or contagious disease" that had not been approved by the authorities, and reproducing content from foreign media without prior permission.