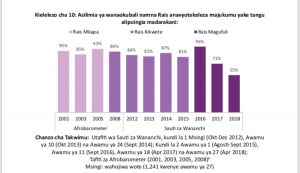 TANZANIA's populist president and self-proclaimed "man of the people," John Magufuli, is fast losing popularity. His presidential approval ratings have dropped to the lowest level in the country's history.
A recent poll shows he has lost 41 percent of approval rate from the same people in just two years.  In 2016 he enjoyed 96 percent of popularity. It slumped to 71 percent in 2017. In 2018 he has only 55 percent of the same.
The lowest points his predecessors scored were 81 percent (Jakaya Kikwete in 2015) and 93 percent (Benjamin Mkapa in 2005).
TWAWEZA – a Dar es Salaam-based organization – did research briefs titled: "Captains of their own ship? Citizens' thoughts on participation and demonstrations and Speaking truth to power: Citizens' views on politics in Tanzania," basing on data from Sauti za Wananchi, Africa's first nationally representative high-frequency mobile phone survey, collected from 1,241 respondents across the country in April 2018. In its report issued on July 5, 2018, TWAWEZA says:
"…When it comes to the president the drop is steeper; from 96% in 2016, the highest recorded rating for the country, to 55% in 2018, the lowest rating in history for the country."
Critics of the president have raised issues with his slumping popularity, saying a drop of 41 points in just two years is no small matter for a populist leader clamping down on opposition and critical media, and turning the governance of the country into a one-man show.
Magufuli has been launching minor projects on behalf of his subordinates and, on several grounds, he has been literally dishing out cash in public and buying fruits for passersby for political capital.
Banning live coverage of parliamentary sessions and political rallies since 2016 as a way of putting the opposition in political oblivion, he has been the only political practitioner solely enjoying live media broadcast in all of his events.
"Despite all this, he is still unpopular. He must be removed from office," says Zitto Kabwe, a parliamentarian for Kigoma Urban and leader of ACT-Wazalendo. He also accuses Magufuli of outright nepotism.
Godbless Lema, a parliamentarian for Arusha Urban and shadow minister for home affairs, doubts the authenticity of the findings, noting that matters are worse than depicted.
He cites an example of the 2015 election results that gave Magufuli 58.4 percent (8.8 million votes) against Edward Lowassa's 39.9 percent (6 million votes), contradicting TWAWEZA's poll results that had given Magufuli 81 percent of popularity in the same year. The 81 percent, however, had been rated for Kikwete in the same year Magufuli was presidential candidate.
Tundu Lissu, an outspoken lawmaker for Singida East, writing from his hospital bed in Belgium where he is undergoing treatment, expresses similar skepticism and caution. He is of an opinion that the level of credibility of these findings might be used to set a precedent for future poll results. Any person who trusts this report, may be automatically obliged to trust it in future with a hiked approval rate close to elections in 2019 or 2020, he warns.
Overall, the report released in Dar es Salaam on July 5, 2018, says:
"Across a range of indicators of democracy, the majority of citizens say there is less freedom now than there was three years ago.
"Citizens feel that freedom has diminished for opposition parties to hold rallies and speak their mind (64%), the media to criticize or report government mistakes (62%), and for independent groups to voice their views, hold meetings (58%).
"Half of citizens also feel they personally have less freedom to voice their own political views (54%). But support for multiparty democracy remains strong, with 9 out of 10 citizens (84%) preferring to have many political parties."
Six out of 10 citizens lament on the declining freedom for opposition parties, civil society and the media over the past three years under Magufuli's authoritarianism. Nine out of 10 citizens still prefer multiparty democracy.
On government accountability, most citizens (59%) want the president to explain government spending of taxpayer money to parliament, and 78% of them want the president to always obey the law and abide by court decisions.
The report insists: "More citizens (37%) now think opposition parties should criticize and monitor the government to hold it to account in-between elections than was the case in 2016 (20%), and more citizens think opposition parties should be allowed to hold meetings this year (64%) compared to 2016 (51%). In terms of the existing ban on opposition rallies and meetings, 5 out of 10 citizens oppose (48%) while 4 out of 10 support (40%) it.
"Citizens themselves say they are willing to take action to hold government to account including by joining together with others to raise an issue (97% are willing) and talk to the media (89% express willingness) but in the past year far few citizens actually did these things (44% acted together, 5% contacted the media). However, 7 out of 10 citizens (71%) did attend government meetings in the past year. Citizens see attendance at decision-making meetings as the best way they can be part of government (53%)."